soulosiris
at
Junjō Romantica Boys-Love Manga Has More Anime in the Works [NEWS]
Originally posted by
=======================================
That aside, I don't seem to really post on my LJ since I'm more active with people via forums and Skype. But I can detail some updates since my last post! (Ouch, Nov!)
-My Soundtrack singing competition will be starting soon. Just need to finalize the last judge, and figure out the official challenges. I have soo many ideas it hurts my head to split them up. Again, this is a SOUNDTRACK-themed competition that will be open to anyone. Disney/Animated films, TV, Games, Anime, Live action Films- well you get the idea. So yeah. SUPER SUPER excited for it. I hope people audition when I post the information!
-Best of the Rest Season 2 is starting up, and is currently holding auditions! The main goal of this show is improvement.
This season, it's a battle between Team STAR (Rachellular, Valkyrie Celes, & Princess Garnet) & Team HCoE (Jefferz, Amby Leigh, and me- Zelina!)
Eligibility: Last season a few people were turned away for being too good, this season that will not happen. If you are really looking to improve PLEASE feel free to audition!

Coaches Notes: Coaches notes will be sent with contestants final submissions so the judges know what you worked on week to week!

So are you wanting to a part of this epic face-off?!

Send any pre-recorded or newly recorded song (Mp3 format) to rachellular@gmail.com! It can have a backtrack or be a cappella.

We will be accepting 16 people, 8 for each team! and we won't accept more than 20 auditions! SO get your auditions in. The last day to send auditions in will be January 18th, HOWEVER, auditions will close early if we get enough, so send in fast! Also feel free to include a blurb about what you wanna work on!
And last but not least- my radio station,
Zelina's Mixed Bag of Showtunes & More
, is still going strong! I'd like to thank my listeners for tuning in, and an extra thanks who voice their opinions in the polls. I'm always uploading new stuff from all my vinyls & CDs- so yeah! If you haven't give it a listen! Here's the player to give it a sample if you like!
Okay, so let me just say, I don't believe in New Years resolutions because 90% they are never done, from my experiences. Now, if you word it as goals, then Im not as skeptical.
Current Mood:

creative


On Voice Hollywood, we are known for having singing competitions, some fun, some serious, but most both. I've previouly judged on shows. Guest judging includes Act It! Season 3 (acting, not singing), Last Voice Singing, & Best of the Rest. My main show, however, is Happiest Competition on Earth. Its a Disney singing competition... oh wait- I said all this in a previous post....hehe...

So anyways, in the Spring season of shows over at VH, my TBA-titled singing competition show is based on various forms & genres of soundtracks. Im still condensing 40+ themes into 10 rounds, leaving a lot of them on the side for possible, future seasons? Also, my judges are on the hush-hush side of things, so yay for keeping people in the dark!
So I know not a lot of people are ganna understand what Im about to say, but Im soo excited for Spring!
"A long time ago, in a galaxy far far away…"
Get that out of your head right now. You are now stepping into unknown territory. Unknown to the average human eye. Let us travel you on a journey into the vast depths of space where we will show you wonders. Hello, my name is Rowen Rovello but you make call me Rovello. I am the head of The Galaxy Institute, an institute of none you have ever seen before.
Become acquainted with the ones living in each of our 10 houses, from Mercury to Pluto, even the Asteroid Belt. Be amazed by the things you will learn here. I guarantee that you will have the time of your life. Duty calls. Until we meet again…

----------------
Isn't that something you wanna join? Well, you can join as pre-made characters (cannon), or make an original one (like me).

Each house, based on a planet or asteroid belt, each has a unique "ability" to them, and also personalities. A bit Harry Potter w/ Hogwarts, if that helps. For example, my character, Aisling Daugherty, is part of Venus House, who's elemental specialties are "nature", and their are "The quiet motherly group of the school. Three words to describe them are Soft Spoken, Quiet, and Virginal.

What I peronally find intresting is that 1) You can claim a face for your character, and 2) Its a tumblr RP, which is something totally new to me. I highly recommend checking it out if your interested!

http://thegalaxyinstitute.tumblr.com/

I will note that the RP is starting, with many cannon characters still available to choose from, and I don't recommend it for the.. pure-er of minds since there may be some older audience stuff.


So my friend Omii is starting this fabulous RP on Tumblr, and we still have a lot of cannon characters. Well, what is it? Here is his introduction post...
Current Mood:

ecstatic
Hello everyone- Zelina here!
If you kept up with the d_princess podcast, you noticed on the last episode that we had a portion of our discussion on a competition that I co-judge- The Happiest Competition on Earth. And its been requested I posted so information about. So, what I am going to do, is post a majority of the audition, with modifications (since they ended). (And I'm reposting this in my LJ)
Now, some of you might be asking… "What is Happiest Competition on Earth?" (HCoE for short) Simple! It's the weekly singing competition that revolves completely around Disney related songs. This is season 2 which means there was a season 1. You can find it all archived here, if you would like to look it up.

Contestants will be faced with a weekly singing challenge themed around Disney music. The themes this season are going to have our singers tackling songs that range from the classics to the songs of today and everything in between. There will also be optional opportunities to enter immunity challenges to secure their place in the show for another week (called fastpasses this season).

The same judges will be returning from season one: Jefferz, Amby Leigh, and myself. Each of us have our specialties when it comes to certain Disney ages. Classical/Golden-Age (including live-action) is mine, Renaissance & Park is Amby, and Jefferz is our pop-prince, who is Contemporary, and pretty good with the stuff of Disney (of now. Amby and I are also both with TV & Stage shows. And we all love getting really rare or obscure song choices. As you listen to the episode, you can figure out which songs tend to be done more quite easily. Guessing songs is super fun.

For auditions, we gave singers up to three chances to audition and make the show. That means that if you don't make it into the show on your first try, you'd have two more chances to submit. Once auditions close, those who made it onto the main show will be asked to complete the weekly Disney based challenges. This season, we will run 12-14 weeks with due dates on Sunday and Monday nights (unless noted in an email).

Now there were a few things we ask for an audition.
1) People were allowed to sing ANY Disney song. It could be from an animated movie, Broadway show, park music, television series, etc. just as long as it's somehow Disney related.

2) Format: Auditions had to be between about 45 seconds to 1 minute and 30 seconds. The auditions had to be acapella. NO music, sound effects, or mixing of any kind. Just plain vocals. We wanted to hear people as clearly as possible In the actual show, full length songs will be required, with mixing allowed. MP3 only.
This season we have a variety of new challenges, almost all new from last year's. So if you wish to follow this season, and on behalf of the other 3 judges, we hope you do, and enjoy the incredible line-up we have this season! You can listen to the episodes as they come out here. If we're lucky enough to think of more challenges, way maybe able to stretch to a season 3 (but we don't see this going past 2 at this point).
If you have any questions, comments, or anything, just email us, and they can either be forwarded to me, or I may eventually post an email! Thanks for reading through all this, and I hope you not only keep listening to the podcast (email us questions and stuff!), but also to the show as well.

The Podcast's Tumblr: http://dprincesspodcast.tumblr.com/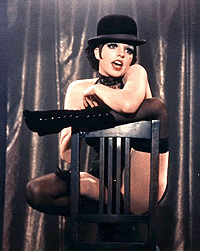 For months, I have known about the touring Farewell Tour for RENT featuring original cast members Adam Pascal as Roger Davis and Anthony Rapp as Mark Cohen (both also reprised their roles in the 2005 film adaption); as well as Gwen Stewart, the soloist in Seasons of Love. I shall write my experience of that wonderful Friday evening another time. With all the promotional mail I received for updates, among them was a brochure containing Theater Under the Star's 2009 season. Among it? You got it- Cabaret, my favorite stage musical.
So what was my reaction? Like any hardcore fangirl would do. Silently breathe, then sigh "awesome".
Like hell I did! I let out a scream of excitement, startling my vain, younger sister who watched and admired her reflection, and did that Kristen Stewart crap of messing with her hair (she did it all the time in Adventureland! Again, something to vent about later). So back to the relevance of my story. I was very happy and excited!
Come mid-May, I get a Starmail (e-mail mailing list for TUTS), with an announcement which kicked this last good new's ass. Boy, this was on one of my wishlists!
For one night only, the Angelika Film Center at Bayou Place in Downtown (Houston), would have a showing of Cabaret on the big screen. FUCK YEAH! The showing was yesterday, Wednesday June 3rd, 2009 at 7 PM. So for weeks I was hyped for seeing this more than Night at the Museum, Star Trek, and Next Day Air.
Luckily for me, the showing was on a Wednesday, which is "Mother/Daughter Day" with me and the Mama. Which meant, I get to choose what we do. I soo used this to my advantage, especially since my mother hates musicals. Since I sprung to her the news at last minute, we decided to around the area for most of the day. We had Persian at Garson's for lunch!
So prior to going into the movie, my mom tried to find a bar/Happy Hour to get buzzed. Sorry Ma, that didn't happen! Once we dealt with the parking (which was a bigger hassle than expected), we gave our ticket to the usher, and headed to screen 5.
Just before entering, a few representatives from TUTS had a table with a few pens, a few pads, and some more promotional items. The pads and pens were for a drawing to win free tickets to the stage performance. So naturally I signed myself and my mother up. While filling out the forms, one of the represenatives caught me off-guard, commenting on the book that I forgot I had on me. It was my textbook, Movies You Must See, by my film professor and award-winning film critic, Joe Leydon; which I brought since Cabaret was one of four in the Musical chapters (It's a really good book with a great selection of films!). So we started to talk about some of the films in the book, with a few more people chiming in. As we took our seats a few minutes later, Mom commented that the short discussion was "intense" and that "there are theater freaks like you". Gee.. thanks Ma!
10 minutes pass as the theater fills up (yes, it was packed with the minimal publicity this event received. Then someone from TUTS gave an introduction..yadda-yadda. The best, and only interesting part of his speech was the fact that we were watching an original 35mm print, with no restoration or anything to it! I freaking wanted to jump for joy. If you know anything about me- I love vintage/retro.
So the lights dim, the room becomes super quiet, with the very faint sound of the projector at the back, as the silent credits appear. As soon as I heard that drum roll to the introduction of Willkommen, I could feel my eyes starting to water. How cool is it that I'm watching Cabaret in a theater (aka big screen), when it originally came out when my mother was sucking her thumb? Including this opening number, it was surreal to watch my favorite songs (Mein Herr & Money) on the screen. Let's not forget those Oscar-winning performances by Liza Minelli as an American Sally Bowles and Joel Grey as the Master of Ceremonies.
Remember how I mentioned this being an original print with no tinkering? They weren't joking. Sometimes the audio would go out, sometimes the movie altogether skips for a mil-second, or the audio between scene changes changed drastically. To me, this was like wine- it's better with age. The jumpy-ness, the scratchiness of some scenes, and the random lines & bubbles popping out may annoy one, but I loved it! It felt very authentic to me.
So the movie ended. The Emcee opened the film stating that our troubles should be left outside, and we'll forget them. At the end, he asks us if we forgot our troubles. I sure did. Following the movie, I asked for my mother's reaction. To my surprised, she liked it. She didn't expect the racy-ness of the film, nor the story. As for her favorite song? Money Money!
So the day, more specifically the evening, was excellent. My hopes are high for getting good seats to the stage version (due to a lovely 1/2-Off discount promo code I have) for my birthday next week- and maybe stretching it a bit, the Cabaret tables up front. Hopefully, they'll do this with "Meet Me in St. Louis", which stars Liza's mom (and one of my idols), Judy Garland (Could care less for Sound of Music, though).
I could probably right more in detail of the reactions while watching the film, as well as more in detail of what happened throughout the day, but I feel I have held your attention long enough, and would probably bore you with it. We did have a busy day, after all...
[Originally posted at my old blog, Little Miss Alto, on June 4th, 2009]
I LOVE Turner Classic Movies- perhaps its the most-watched channel for me. I certainly don't watch crap like MTV, at least not anymore since it became more of a reality-TV wasteland. Ah- the days of Daria, Bevis & Butthead, and the actual music & their videos.
It hasn't been until the middle of my high school years I discovered this precious gem of nostalgia, cinematic art & appreciation. In fact, most of my favorite movies stem from the hours I devoted to TCM. A Child is Waiting with Judy Garland & Burt Lancaster; A Bundle of Joy with Eddie Fisher & Debbie Reynolds, Some Like It Hot with Jack Lemmons, Tony Curtis, & Marilyn Monroe; and Harvey with Jimmy Stewart. Just to name a few. Hell, I discovered my favorite actors and actresses from this delightful channel. Judy Garland, Gene Kelly, the Rat Pack (Dean Martin, Frank Sinatra, etc), Jimmy Stewart, Bette Davis, and so so many more!
The beauty of this channel is the quality and diversity of films shown. They have silent, black & white, color, animated, (mostly) live-action, mature, kid-friendly, and they show awesome shorts. One of the most memorable is the "Learn How to Jitterbug". Those kinds are always fun to watch. You get a real feel of how things were back then.
Synonymous with the channel is host Robert Osbourne, who is a cinematic encyclopedia. He is one of my small screen heros! Before and after the movie, Mr. Osbourne gives a summery of the film, and give trivia of all sorts. It's just as enjoyable to watch the movie! Just a joy!
I recommend the channel whole-heartedly! You'll be bound to like or love something you see!
Current Mood:

awake

Current Music:

Original Broadway Cast - Tango Maureen [RENT]


Weren't they adorable? I kinda feel bad for them, even if I laughed for a good while.
Enjoy these kids!


Am I agreeing? No I am not. As a friend of mine put it, it was in it's worst form on Broadway. And we both agreeed- Frank Wildhorn has a consistent characteristic for a majority of his musicals (my friend says all of them)- they are good in preview & concept cast, but slowly dwindle and downgrade as they near Broadway.

Now, I love the concept cast. Janet Dacal is one of my favorite actresses since her Carla in "In the Heights", so I of course wish the best for her. I think, with all the great talent that is the Wonderland cast, the plot of it all is what is hurting this production. The concept cast album shows the great potential of the this show on the musical level. And yes, not everyone will agree, but I feel its good music to listen to. Shame the story never worked out its kinks. Should this show still close, I hope the actors are recognized for the good work they did, rather than what they were given for material.
All reviews point to a big YES.
Current Mood:

anxious


Can't say I'm happy for this news. Yes, Tokyopop has had its ups & downs since they started, but they did give us some good titles along the way. Heck, around 1/3 of my collection is TP. Yes, they were hogs for the manga shelves at book stores, but again.. we had shelves, and plenty of them! Were they the best? No, and I can say that I agree that they went overboard with the amount of titles they acquired, and the inconsistent quality and releases (or lack of for this).

As fellow manga-readers, we hope that certain series picked up by other companies, and leave the duds behind. I'm ganna have a hella time trying to get the remaining volumes I need for my series. As if trying to get Sailor Moon wasn't hard enough as it is...

Some series I have from TokyoPop (all sadly incomplete)
Bakuretsu Hunters (Sorcerer Hunters)
Slayers Novel
Keroro Gunso (SGT Frog)
Fruit Baskets
Zodiac PI
GateKeepers (Did they ever finish these?)
Sailor Moon
Cardcaptor Sakura
Shaloin Sisters (Most complete w/ only 3 volumes)
Vampire Game (Most complete w/ only 3 volumes)

I know I have the oddest choices for the most complete series, but I will say this... I adore Vampire Game more than SSisters. I loved it since high school, and before the plague of everything Vampires and pre-Twicrap. SSister is my attempt to complete a collection, since the series isn't as long as all the others. Fruit Baskets is my newest addition, but its ganna be real hard for me to get those. Hell... I also remembered the art style changed, making the characters hard to figure out. But I love the story/crazyness of it.
[Reposting from a reply of mine in the theSlayers community discussion]
Current Mood:

sad